本サイトは、クッキー(Cookie)を使用しております。Cookieは、本サイトの機能と利便性の向上、ならびに分析を目的に使用されています。設定を変更せずに本サイトを継続して利用することにより、Cookieの使用とプライバシーポリシーに同意したものとみなされます。プライバシーポリシーについてはこちらをご覧ください。
This site utilizes Cookie. Cookie is used to improve functionality and accessibility of this site, in addition to use for analysis. Your agreement to the use of Cookie and private policy is presumed by continual use of this site without changing its settings. For details on the private policy, please refer here.
WINNER INTERVIEW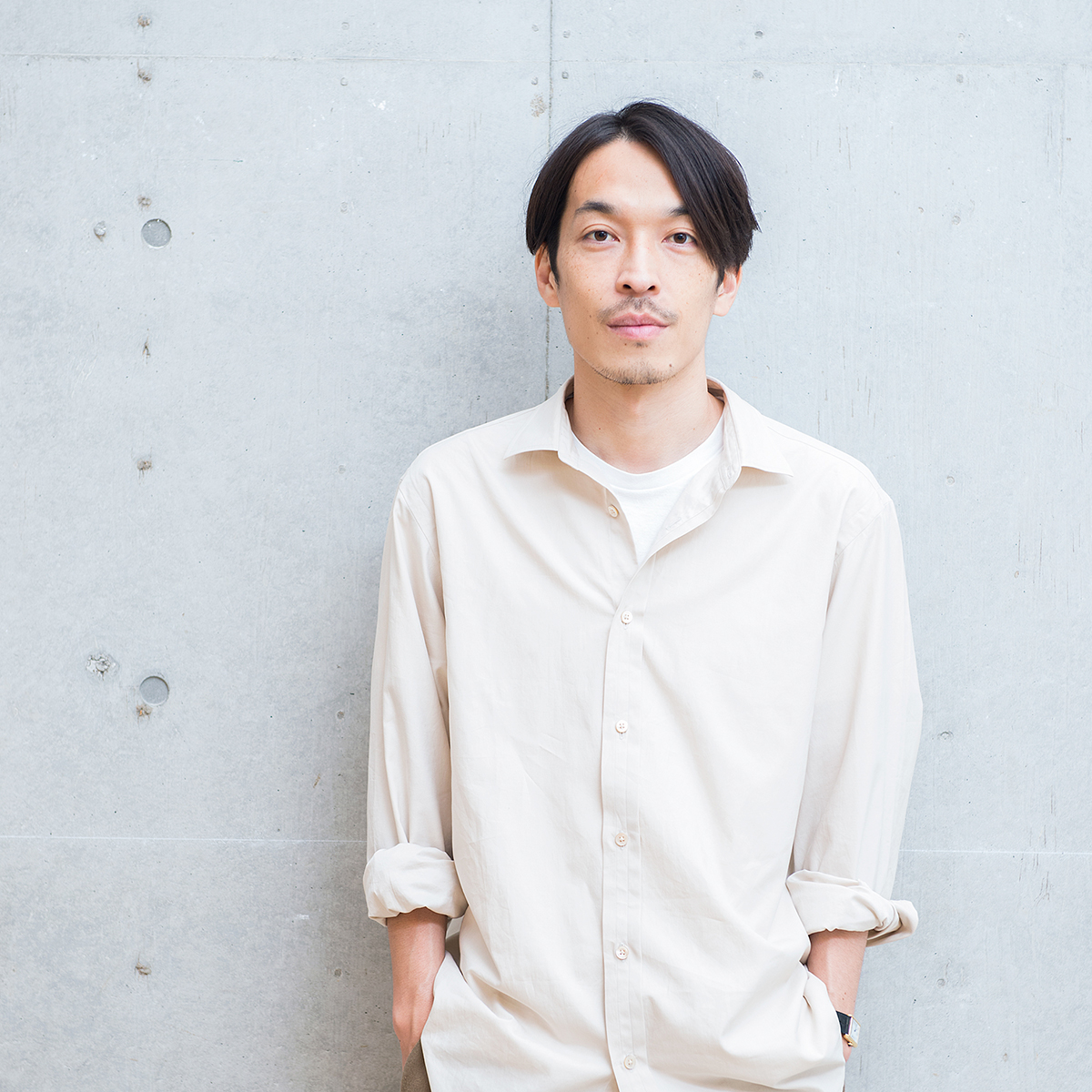 Photo by Satoko Imazu
Q. FASHION PRIZE OF TOKYOへの応募の動機

大きい目標だった直営店を昨年オープンして、ブランドの世界観をさらに伝えるために、何か新しいことにチャレンジしたいと思っていたところ、色んな方からの勧めもあって応募しました。
Q. What motivated you to enter the FASHION PRIZE OF TOKYO?
Last year, we opened our direct shop, which was an important goal for us, and were thinking we needed to challenge something new to convey our world view wider, when various people recommended entering.
Q. 受賞が決まった時のお気持ち
ブランドとして賞をいただくこと自体が初めてで、大変光栄です。 ブランド立ち上げ当時から協力してくれている工場の方々、卸先、一緒に働いているスタッフ、関わってくれている全ての方に感謝の気持ちを伝えたいです。 今は何より、何とかしてパリのプレゼンテーションをやり遂げたいという気持ちです。
Q. How did you feel when you won?
It was the first time the brand won any award, so we are extremely honored. I would like to convey my most sincere thanks to all those people involved, from the factories whom have been cooperating with us since the start of the brand, the shops, and our staff. Right now, my only hope is to pull-off the Paris presentation somehow.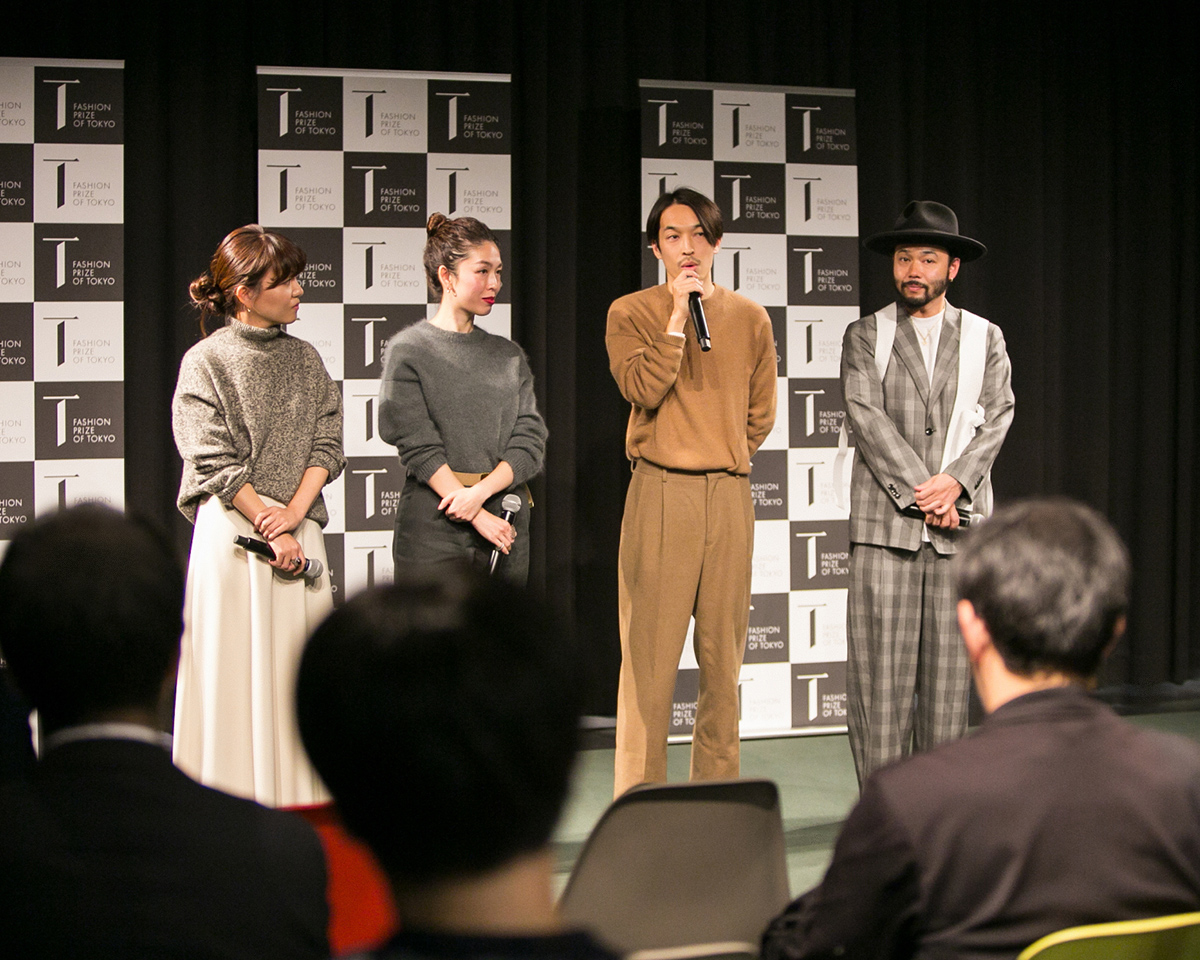 Q. 受賞者としての今後1年間で、もっとも得たいと思っていること(目指すところ)はなんですか?
これからはより一層、ブランドの世界観や空気感を伝える見せ方にも注力していかなければと思っています。ブランドらしさをブレさせずに、まずは海外の方にもブランドのことを知ってもらうこと、将来的には海外でもビジネスとして成り立つことを目指しています。
Q. What do you hope to gain (aim for) the most in the following year, has the award-winner?
From here-on, I think we need to put more strength into ways of showing which will convey the brand's world view or mood, even better. Our aim is, first to have overseas people acknowledge our brand without losing sight of our brand's characteristics, and in the future, hope it stands up as a business in overseas markets too.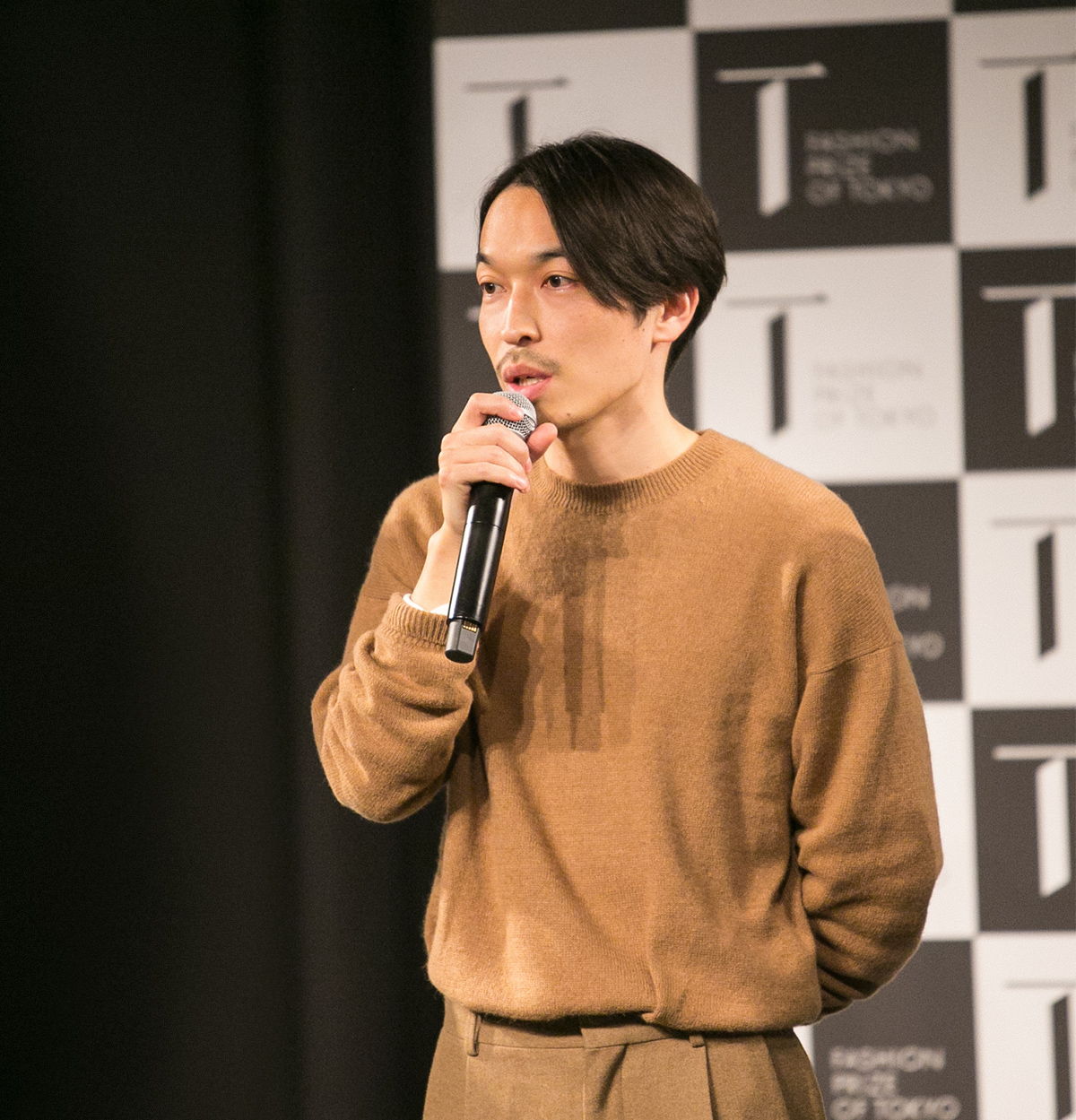 Q. パリでの発表に向けた意気込みをお願いいたします。
海外での展示会経験もなく何もかも初めてですが、見てくれた方に少しでも何か感じでもらえるような自分たちらしいプレゼンテーションにしたいと思っています。
Q. A word of determination towards you Paris presentation, please.
We don't have any experience exhibiting overseas or anything, so everything is new to us, but we're hoping to show a presentation befitting us in which the people whom see it will feel something, no matter how small or minute.
ARCHIVE