本サイトは、クッキー(Cookie)を使用しております。Cookieは、本サイトの機能と利便性の向上、ならびに分析を目的に使用されています。設定を変更せずに本サイトを継続して利用することにより、Cookieの使用とプライバシーポリシーに同意したものとみなされます。プライバシーポリシーについてはこちらをご覧ください。
This site utilizes Cookie. Cookie is used to improve functionality and accessibility of this site, in addition to use for analysis. Your agreement to the use of Cookie and private policy is presumed by continual use of this site without changing its settings. For details on the private policy, please refer here.
Comments from the juries

FASHION PRIZE OF TOKYO審査員コメント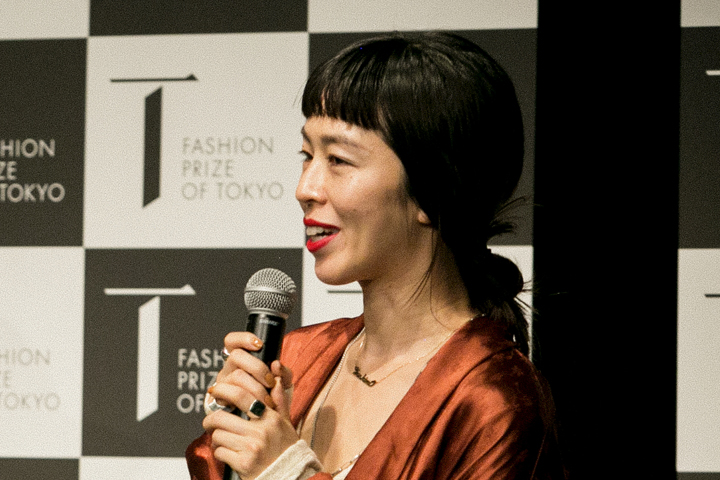 【1】 FASHION PRIZE OF TOKYOについて
―コンセプトや支援メニューなどについて賛同された点や、今後期待する点

海外でプレゼンテーション、ランウェイができるサポートはブランドにとっても更なるビジネスを考える上で良いチャンスになると思うのでとても良いと思います。
一時的な金銭面だけのサポートだけではなく、継続的にブランドの飛躍をサポートできるPRや取り組みをブランドと一緒に考えていけることができたら良いと思います。
Regarding the FASHION PRIZE OF TOKYO - Please tell us what aspects of this prize do you agree with, for example, its concept, support menu, etc., and what are your hopes for the future?
For a brand, support in overseas presentation and/or doing runway shows, gives them a chance to think of further developments in business, so I think this is a very good thing. In the future, I think it would be even better if the support extends further than provisional financial support, to providing continuous support for the brand to flourish, like finding a way to plan PR and business developments together with the brand.
【2】審査について
―エントリーブランドに対する感想、審査ポイント、受賞ブランドへ期待することなど
知名度という部分ではまだそこまで強くないブランドも積極的にエントリーされていた印象。感度、日本の物作り、スタイル、認知度、売り上げのバランスを重視しました。 日本だけではなく海外でもオリジナルのスタイルを貫くことができ、長く愛されるブランドになってほしい。
Regarding judging
- Please tell us your impression of the entry brands, judgement points, and your expectations of award-winning brands.
I have the impression that brands whom are not yet widely acknowledged made aggressive entries. I placed value on the balance between Japanese production, style, level of acknowledgement, and sales. I hope award-winners will carry through their original style, not only in Japan but in overseas also, and grow into a brand which is loved for a long time.
【3】世界で戦えるポテンシャルのあるブランドの条件とは?
ブランドの"アイコン(スタイル)"が明確であること、(アイコンのアイテムがある)日本の物作りを大切にしていること。
What are the requirements for a brand to have potential to survive in the world?
That the "icon (style)" of the brand is clear, (have an icon item), and value Japanese production.